BASRaT Conference 2017
We were very excited in the lead up to this year's conference and it certainly did not disappoint thanks to the remarkable and diverse range of speakers and topics that we benefited from. The Etihad Stadium venue was impressive and set the scene for the day and our opening Keynote: Professor Karim Khan made a tremendous impact, Karim talked about the importance and reasons to exercises, translating this to patients, the role sport rehab can play and why GSR's are important. The BJSM Chief Editor went on to talk about the necessity of healthy eating, with exercise being only half the battle in the fight against obesity.
Delegates enjoyed the interactive nature of Professor Khan's speech. Karim spoke about exercise reducing the risk of cancer and improving brain function and we were surprised to hear that being inactive for a day is equivalent to smoking three cigarettes!
Professor John Buckley's research presentation gave us stats relating to the cardiovascular system and physical activity, where we learnt that when we increase our aerobic fitness by 10% there is an 8% reduction in the risk of cardiovascular disease.
Completing the recommended amount of physical activity is not enough alone though to reduce the risk of cardiovascular disease, we also need to avoid being sedentary for long periods of time. Professor Buckley also stated that being more physically active is a behaviour not a physiological process.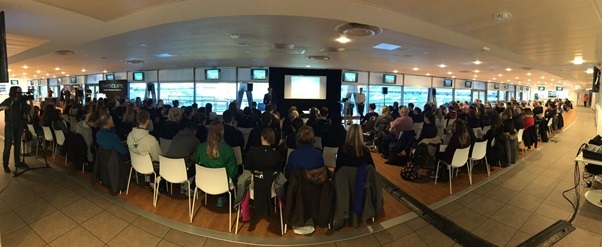 Workshops
Karim Khan presented a very useful workshop in tendiopathy, including the interesting link between Scoliosis and inflamed tendonitis. Juliet McGrattan discussed how to tailor goals to individuals, presenting infographics and talking around the promotion of Physical Activity.
Paul Comfort got delegates involved in his practical workshop on the implementation of weightlifting derivatives during rehabilitation. Paul spoke about the rate at which an athlete can produce force being important, which is often missed in return to play and rehabilitation, strength and RFD should both be included in Rehab program.
The BASRaT Symposium concluded with an incredible keynote from Tasha Stanton. Tasha looked at the role of the brain in osteoarthritic pain, T asha discussed the disconnect between structural damage on imaging and the Px experienced, Tasha stated that our bodies are always trying to heal and looked at exploring biopsychosocial factors with patients.
Tasha informed us that there can be a difference in actual structural damage and the pain that an individual is in when dealing with pain. We as Rehabilitators have to find a way to help reduce or manage the pain which can be aided by through positive words and positive management. Patients can be helped through visualising themselves performing a movement which can reduce pain levels.
"The symposium was a great experience from start to finish. The speakers were incredible and I left with a fresh perspective on both managing pain and how I can encourage patients to get active to benefit their health holistically." Amy Day