BASRaT is continually attempting to gain member contributions in all aspects of the website, so if you think you can help please contact us.
Does it affect your sleep if you exercise close to your bedtime?
This insightful two part podcast on sleep looks at when it is too late to exercise and the impact on sleep if you exercise two or four hours before you go to bed.
Travelling time zones can affect the performance of athletes, the podcast discusses thinking about when to travel and changing sleep schedules to counteract this.  Dr Cindy Chang, University of California also talks about the use of wearable technology in assessing an athlete's sleep and how wearable technology can pick up sleep disorders.
The podcast refers to the National Sleep Foundation website which provides useful information including tips on aiding performance when travelling time zones. Please note that this is a US site.
BASRaT members get free access to BJSM. Listen to the podcast 
Tax relief on BASRaT Registration fee
We have made a successful application to HMRC to be included on the "Approved professional organisations and learned societies (list 3)". This means that the fees paid by registrants and members will be approved for tax relief. The full list of professional bodies is available on the Government website here, the addition of BASRaT will be made at the end of October. 
The manifesto for "MSK Reform"
BASRaT has been working with the new grassroots Think Tank "MSK Reform" around a shared vision to advance and improve the 'musculoskeletal sector. Next week, the manifesto will be launched and a reception will be held at the Houses of Parliament, where BASRaT will be represented. The manifesto is extremely positive for Sport Rehabilitation and BASRaT and will hopefully lead to some exciting developments in the future.
The launch of the manifesto will be followed by #TheBigRs Conference in Manchester on the 18th and 19th of November where we will be exhibiting. After the conference, the manifesto will become publicly available via https://mskreform.org.uk/ and BASRaT members are encouraged to engage with it. For those interested in attending #TheBigRs Conference, tickets are available here. 
Exciting Jobs 
This week has seen a flurry of jobs for BASRaT members. The role of "Head of Medical" at Huddersfield Giants (Super League), with a salary of £55-65k, is open to BASRaT Registrants with the requisite experience, check out your recent BASRaT e-newsletter for more details. 
.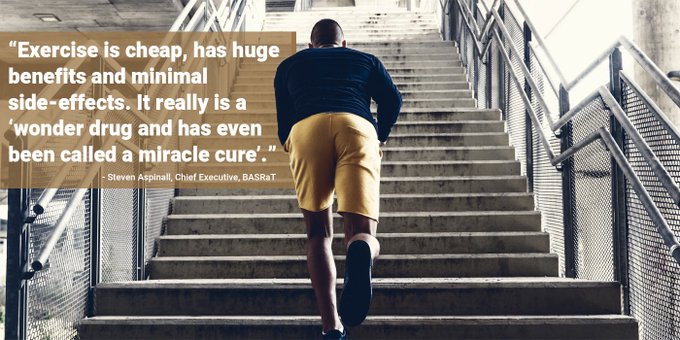 We recently worked with Health Awareness on their 2019 Rehabilitation campaign, featuring exclusive content from key thought leaders and industry voices about the importance of Rehabilitation services. A printed publication was included in the Guardian newspaper and the content is available online at www.healthawareness.co.uk  
Steve Aspinall's fantastic piece "Prescribing exercise – the crucial healthcare tool" is featured. BASRaT's Chief Executive, Steve Aspinall looks at getting people moving through simple messaging. Steve talks about muscle strengthening activities, moderate and vigorous activity and how to fit exercise into busy lives.
Read more here.
.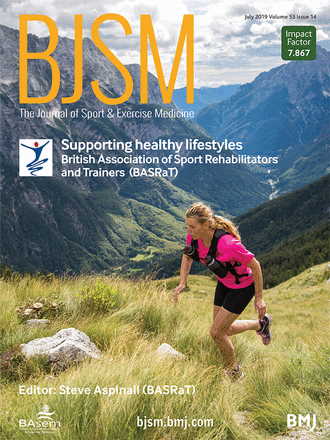 Check out this month's fantastic issue guided by BASRaT, looking at how we can support healthy lifestyles for our patients and athletes and          how we can improve public health. Edited by BASRaT Chief Executive, Steve Aspinall, this issue looks at:
  - Pragmatic alternatives to increase physical activity
  - Health benefits of cycling as a form of transport
  - Clear messages on reducing sitting time but also increasing movement
  - Benefits of Physical activity for both brain health and cognitive function and functional capacity and health
  - Framework and rationale for prescribing exercise for patients in pain, improving outcomes and challenging patients to think differently about       tissue damage and pain
    And so much more, view here. 
.
 "Uncomplicated Resistance Training and Health-Related Outcomes: Evidence for a Public Health Mandate"
Dr Stuart Phillips and Richard A Winett wrote the above review on resistance training for an American journal almost ten years ago but it is still pertinent today. Dr Phillips recently tweeted "Sets, reps, ROM, free weights, machines, time between sets are variables that most mere mortals should worry less about and just practice going to the gym - preferably regularly - to get stronger. Nothing fancy, other than access, commitment and
knowledge of benefit, needed?"
The review looked at resistance training and cardiovascular health, changes in body composition, RT and TDT, what more resistance training can do and shifting towards an intrinsic resistance training model.
Resistance Training can seem like an intimidating and confusing term to some, simplifying the messages and encouraging regular workouts could be key to motivation. Watch this space for more information coming soon!