Collaboration within the medical team at St Mirren FC
A recent CSP article highlights how physiotherapist, Jacqueline Hamilton works alongside GSR and Head of Academy sports science and medicine, David Hartley. They provide a multidisciplinary approach to rehabilitation at St. Mirren Football club near Glasgow. 

"We all bring different views to provide a safer and more effective return-to-play process" JACQUELINE HAMILTON, PHYSIOTHERAPIST

Collaboration for rehabilitation

'The expansion of our team to include a sports scientist, strength and conditioning coach and sport rehabilitator working with our four physiotherapists, meant the way to provide seamless rehabilitation was to reduce barriers and collaborate'. DAVID HARTLEY, SPORT REHABILITATOR


The CSP case study details the important roles that each member of the team plays,, providing players with the best of their combined knowledge and skills. Read more here - Case study: St Mirren Football Club | The Chartered Society of Physiotherapy (csp.org.uk)



Sport Rehabilitator Marlize De Vivo, Co-Founder of The Active Pregnancy Foundation, collaborated in the questionnaire creation
Overcoming concerns and identifying those who should seek medical advice before exercise

The Get Active Questionnaire for Pregnancy identifies the small number of individuals who should seek medical advice as a first step to becoming or continuing to be physically active during pregnancy, and to help the majority of healthy pregnant individuals overcome any concerns they have with getting or staying active.
Sport Rehabilitator Marlize De Vivo, collaborated with this effort which recognises the importance of continued physical activity and acknowledges the role of healthcare and qualified exercise professionals in facilitating an active pregnancy.
"Is it safe for me? Will it harm my baby? These are questions often asked by women when becoming pregnant. And whilst research has shown that the benefits of being active during pregnancy far outweighs the potential risks, some women might need to consult with a healthcare professional before taking part, and in some cases, will benefit from additional monitoring, support and guidance from a qualified exercise professional. The Get Active Questionnaire for Pregnancy removes the uncertainty around these decisions and empowers women to take ownership of their own health
and wellbeing.
It has been an honour working with Dr. Davenport and the CSEP team on behalf of BASES and the Active Pregnancy Foundation to align this screening tool to the United Kingdom's physical activity guidelines.. Dr Marlize De Vivo, PhD / CEO & Co-Founder, The Active Pregnancy Foundation
Health Secretary asked to prioritise Rehabilitation
The CRA has written to Health Secretary, Steve Barclay to highlight the need to ensure access to high quality rehab services. 
BASRaT is part of the Community Rehab Alliance alongside the CSP and 32 other organisations. The CRA's letter states how timely access to rehabilitation remains the critical missing piece in tackling many of the urgent problems facing the health and social care system. 
The evidence of treatment outcomes for people with many health conditions shows that rehabilitation is as essential to good health outcomes as medicines and surgery.
Read the full letter here.
https://www.csp.org.uk/system/files/documents/2022-12/cra_letter_to_sos_health_nov22_final.pdf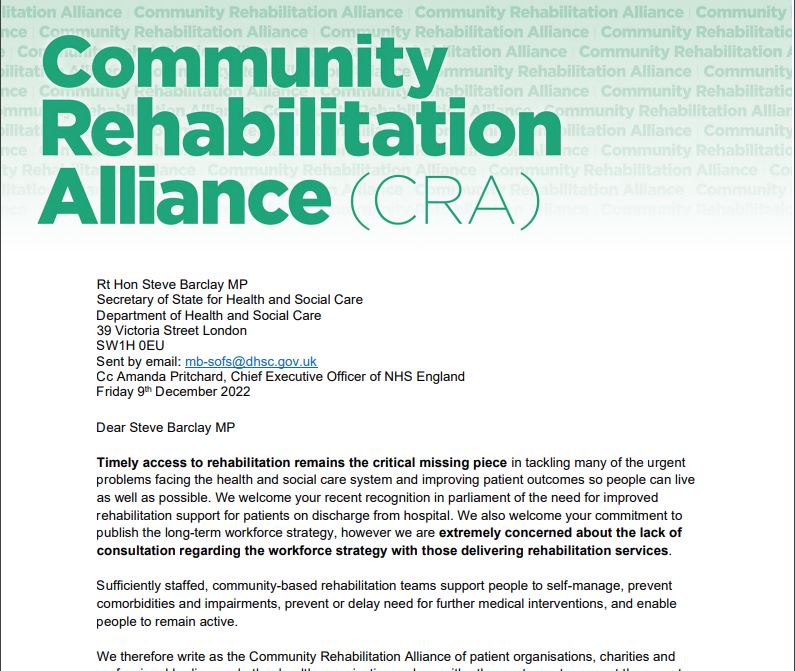 Current guidelines from Dr Marlize De Vivo

Sport Rehabilitator and CEO of The Active Pregnancy Foundation, Dr Marlize De Vivo has co-produced the BASES Expert Statement on Pregnant and Postnatal Athletes.

The Statement highlights current guidelines and the multi-disciplinary approach to support athletes with health, training and performance goals during and after pregnancy.
Dr Marlize De Vivo said:
"This statement has been a year in the making and in this time we have seen women pushing boundaries and perce
ptions    in the sporting arena. Whilst the wider topic area of women in sport has gained interest, there is still a lot of work that     needs doing to support athletes during their reproductive years.

"Now is absolutely the right time to raise awareness of the topic area generally  but also to encourage              conversations between athletes and key stakeholders to address the gaps in evidence, guidance, and policy.          We also hope that the sport and exercise industry respond with updates in curricula and requirements for continuous professional development. This Expert Statement provides the foundation for these discussions."

BASRaT is now a full member of the International Working Agreement
BASRaT has become a full member of the International Agreement meaning that GSRs can work overseas in Canada, America and Ireland. Read the news release.  Interested in applying for this process? Find out more here.